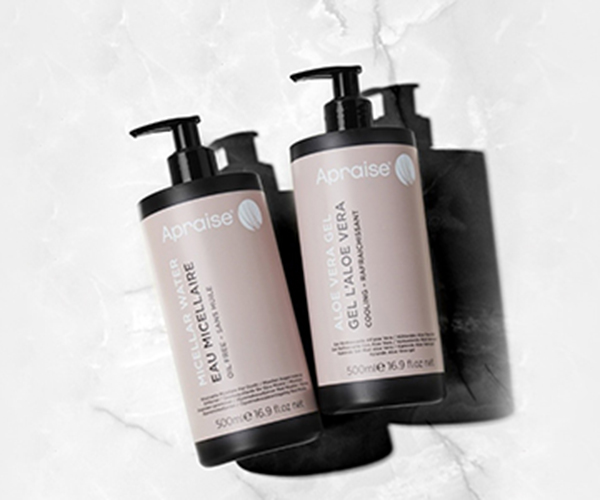 When it comes to achieving the perfect brows, prep and aftercare are important, but are sometimes overlooked, steps of the process.
Apraise has created Micellar Eye Make Up Remover and Aloe Vera Gel to help you carry out your lash and brow treatments with ease. Specially formulated with kind-to-skin, tint-friendly ingredients to soothe the skin and ensure your client leaves with a smile.

Prep: Micellar Eye Make-Up Remover
Begin your treatment with a soothing cleanse to ensure all make-up has been carefully removed and to leave you with a clean base.
Apraise Micellar Eye Make-up Remover thoroughly and gently cleanses the eye area, leaving no residue behind.
With extracts of Cotton, Meadowsweet and Cucumber, the calming complex of this product reduces redness and keeps the skin feeling hydrated. It is suitable for sensitive skin and perfect for prepping the eye area for any lash or brow treatment.

Protect: Aloe Vera Gel
Your client's brows may now be tinted, defined, and shaped to perfection, but the dreaded post-wax redness can take away from the finished result.
Introducing, Apraise Aloe Vera Gel.
Aloe Vera has been used around the world for thousands of years to heal the skin and is a staple in many skincare products.
Known for its soothing properties, Aloe Vera provides instant relief to skin irritation. Its high water content ensures it hydrates the skin, locking in moisture and nourishing the eye area.
Packed full of anti-oxidant and anti-bacterial properties, this helps to reduce inflammation and helps to heal the waxed area.
Simply apply the gel to the treatment area using a cotton pad to restore the skin. As well as reducing redness, this will feel super soothing and relaxing for your client.
Hello dream brows, goodbye redness, and irritation!
Share
Spread the Bblonde® love