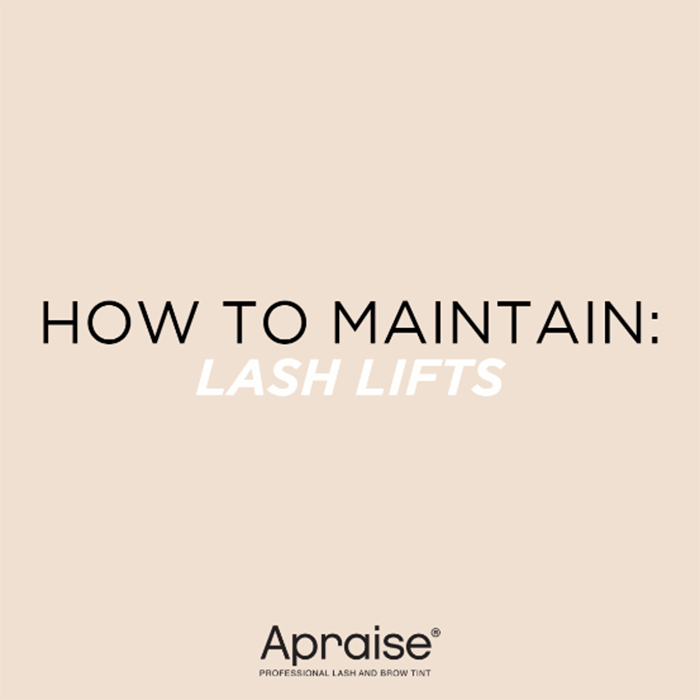 Lash Lift is the low maintenance eye treatment that enhances your lashes, keeping them long, luscious and thick looking for up to 6-8 weeks. Apraise is the perfect pairing to any Lash Lift treatment as the tint enhances the colour of the lashes.
Following a proper aftercare routine is essential in keeping the lash treatment as long-lasting as possible. Here are our top tips on how your client can maintain their Lash Lift:
1. Keep lashes dry for the first 48 hours
This is the important first step for ensuring the product is able to fully develop. When cleansing the face, avoid the eye area and ensure no oils or creams transfer onto the brows. We recommend clients stay clear of the gym or sauna too if they like to get a sweat on. Their lashes will thank them!
2. No harsh products
Avoid using any harsh products on the lashes. Think water-proof mascara, hard-to-remove false lash glue, anything that could require a lot of rubbing to remove. Although the best thing about a Lash Lift – your client most likely won't need to use any lash products!
3. Avoid oil-based products
Oil-based products will break down the solution, so recommend they stay clear from any cleansers, creams or face masks that include oils to ensure the lashes stay lifted.
4. Brush your lashes often
Especially after cleansing or showering where the lashes will get wet, make sure to brush them with a dry, clean spoolie. This helps lashes to retain their shape and keeps them looking fresh. We also advise brushing the lashes after sleeping – sometimes the lashes can look out of place in the morning depending on your client's sleeping position.
When following proper aftercare, Lash Lifts require little effort in return for amazing results. And anything that makes our morning routine shorter – we're a big fan!
Share
Spread the Bblonde® love