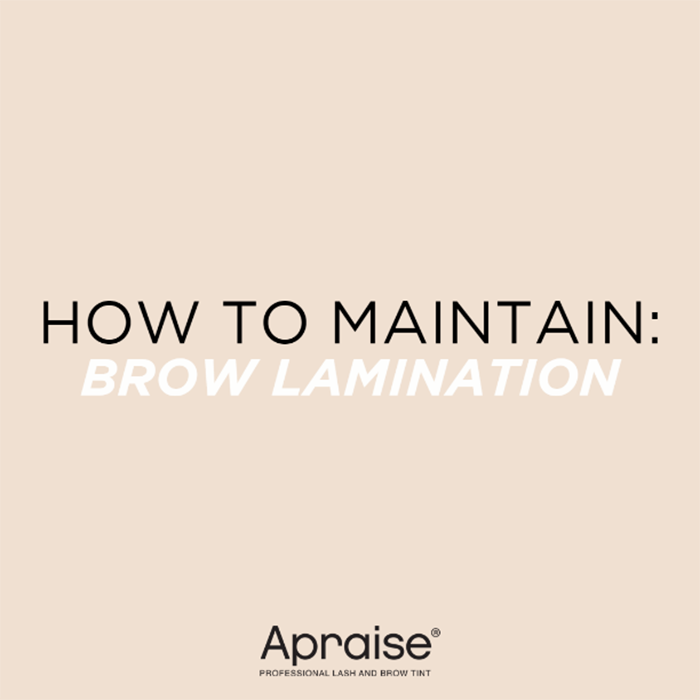 If you haven't heard, Brow Lamination is the brow-transforming treatment that turns thin, sparse hairs into thick, defined brows. A client favourite within salons around the UK, this treatment perms the brows, lifting them into position and taking the stress away from eyebrow maintenance. Paired perfectly with Apraise brow tints, Brow Lamination keeps the brows looking fresh and defined for up to 6-8 weeks.
We've asked our experts for their top tips for maintaining Brow Lamination:
1. Keep your brows dry for the first 48 hours
This is essential for ensuring the lifting lotion is able to fully develop and to make sure the treatment lasts as long as possible. When cleansing the face, try to go around the brows without touching them and ensure no oils or creams transfer onto the brows. We recommend clients stay clear of the gym too if they like to get a sweat on. Their brows will thank them!
2. Brush brows twice daily to keep in shape
While Brow Lamination perms the brows into a defined shape, it's important to brush them into position twice a day to maintain the shape. Use a clean, dry spoolie – usually a brow tech will give the client a fresh one at the end of their appointment to use.
3. Use Apraise Power Serum
After the brows have been laminated they can feel a little dry due to the lifting solution. We always recommend using a brow serum but this is especially beneficial after lamination. Apraise Power Serum nourishes brows, keeping them hydrated, strong, and healthy. The formula has been specially developed to work alongside brow treatments, unlike other oil-based serums which can break down the treatment.
4. Keep them clean
Keep them clean! Use an oil-free cleanser to prevent the lamination product from breaking down, rinse and pat dry.
And it's as simple as that – defined, luscious brows that will last weeks!
Share
Spread the Bblonde® love