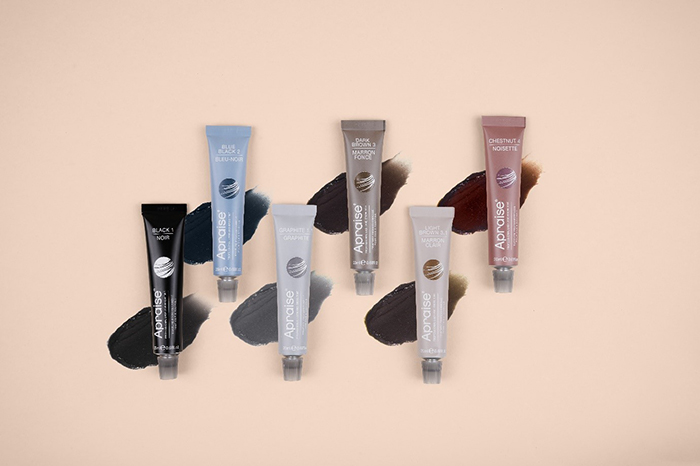 Introducing the new Apraise. Created with the salon professional in mind, Apraise lash and brow tints are now 100% Vegan-friendly and PPD free.
With higher shine, higher coverage and even stronger staining power, Apraise tints provide long-lasting colour results that visibly transform the appearance of both lashes and brows for up to 8 weeks.
Now with 6 intermixable shades available; Black, Graphite, Blue Black, Dark Brown, Light Brown, and the shade of the season, Chestnut. All shades are available in a larger 20ml tube, allowing for approximately 40 applications per tube.
Black gives intense definition and shine, perfect for those with darker skin tones and hair colours. Mix with other shades for depth of colour or use on its own for a striking finish.
Intensify and mask grey or white hair with Graphite. This multipurpose shade leaves brows looking natural and can be mixed with other shades to create an ashy finish.
Add some shine with Blue Black, a shade of black with a blue lustre which achieves multi-tonal colour results. It adds an extra edge of a shine to the standard black tint, best suited to blue eyes.
Adding luminosity and definition, Dark Brown provides strength and depth of colour. Mix with light brown to increase subtleness and vary the tone. Or mix with Black to darken shade for darker hair colours.
Light Brown adds strength and depth of colour to brows. Use alone to increase subtleness and vary tone or mix with Dark Brown or Black to darken for darker hair colours.
The newest member of the Apraise family is already a favourite with the seasonal redheads who have gone copper this year. Chestnut adds warmth to your client's brows and is an intense red shade for clients with red, copper or mahogany hair.
Apraises blend of active ingredients ensures long-lasting and intense colour, luminous shine and condition for a result that visibly transforms the appearance of both lashes and brows.
Made in the UK using the highest quality ingredients, Apraise is a salon favourite in over 40 countries worldwide.
Ready to see the new Apraise in action? Head over to our Facebook and Instagram @apraise_tint to see our ambassadors put it to the test!
Share
Spread the Bblonde® love